I have to admit, the idea of giving myself a deadline to write, produce and release a song a month scared the heck out of me. But it also lit a fire under my butt. So, my left brain was seriously duking it out with my right brain for quite a while. (Right brain: "This is cool!" Left brain: "This is impossible!")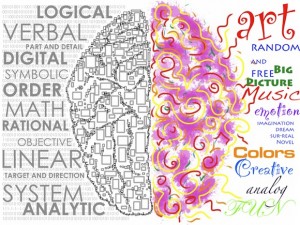 Some experts refer to this process as left brain/right brain collaboration. Whatever you call it, taking mental measure of both the practical and the creative at the same time is tricky and maddening business. As the veteran minor league catcher, Crash Davis, said in Bull Durham: "You're thinkin' too much, Crash. Get out of your head."
Since that great baseball movie has given me more than one solid piece of advice, I took Crash's words to heart. I got out of my head by actually collaborating – with other humans. It wasn't always intentional. Sometimes it began with a simple conversation. But the right brain opened its door at the right moment and let the inspiration in.
So, here's to those who collaborate with me in a variety of ways. And here's to a brain that tilts just a little to the right. The results are here for you to enjoy on 3 in 1.2:
Wild Idea – an acoustic-guitar, electronic dance jam with an infectious groove, this was a long distance collaboration with Robert Bond who lives and works in both Nashville and Warsaw, Poland. Yes, he's an interesting guy.
Doing What I Can (With What I Got) – this hard rocking stadium sing-along was inspired by a quote from my band mate Kevin Bacon. I'm sure our Bacon Brothers fans will want to hear more about that one.
Singing Karoake In The Motherland – a quirky alt-rock track that began in a conversation I had with my nephew Nick Perfetto and took shape with the help of my colleague Paul Rolnick. Paul and I have a shared history in the music biz with many adventures as session singers, writers and producers.
All three tracks were mastered masterfully by the aurally awesome Butch Jones. Check out his list of credits!
I'll be blogging about the creation of each of these tracks in the coming weeks, so watch this space for stories about the songs and the collaborators who worked with me to bring them to life.
For now, you can hear clips of all three tunes RIGHT HERE on my web site. You can, of course, stream and purchase them all over the web on sites like iTunes, Amazon, Spotify, Pandora and the rest.