While getting ready to return to my teaching gig at Pace University, I was thinking about what I did on my "summer vacation." The Bacon Brothers tour started way back on May 31 and I was finally in my own bed on August 12th. As usual, there were many adventures and lots of stories to tell.
I'd like to share one about a couple of days the band spent in Memphis, TN this past June.
I'm a born and bred New Yorker but I feel a strong connection to that part of the country because of my love and study of American music. Marc Cohn captured that feeling so well in his hit "Walkin' In Memphis." For two sweet days in June me and the boys took a little walk.
Rolling in overnight from Mountain Home Arkansas we had time to kill waiting for our rooms to be ready. Luckily, we were staying at The Westin Hotel around the corner from Beale Street, the world-famous music and entertainment strip downtown. Nice, but it was way too early to consider a libation and yes, one could have liquid refreshment at that hour on Beale. Certainly, breakfast was in order! So, "Los Tres Amigos,"  Frank Vilardi, Ira Siegel and I headed to The Blue Plate Café to step back in time for a guilt-free, carb & cholesterol-rich traditional southern breakfast that would keep us well satiated 'til dinner. I even got a lesson in how the locals properly dress their pancakes from our straight-out-of-central-casting waitress. "Darlin' let me show you how to fix yo stack." Fix my what?! "You smother 'em in butter.  Now, cut a little bitty hole into the middle and pour dat syrup in there so it spread all the way down t'da bottom. That's it baby. Keep pourin', keep pourin'." You know you've been on the road too long when describing the act of eating pancakes begins to sound like sex.
We were blessed with a day off in Memphis and determined to make the most of it. So, after checking in we went right out to the Stax Museum. The famous converted movie theater at 926 East McLemore was ground zero for classic soul hits by Rufus and Carla Thomas, Booker T and The MG's, Otis Redding, Sam and Dave, Isaac Hayes and so many others. It's now a museum that lovingly displays the cultural history of soul music from its gospel roots to the top of the charts. They literally moved and reconstructed a 1906 Mississippi Delta church complete with pews, potbelly stove, piano and lectern. Also on display were hundreds of artifacts from back in the day including costumes, recording gear and the very instruments played on so many hits: Steve Cropper's Telecaster, Donald "Duck" Dunn's Fender bass and Booker T's Hammond organ. Needless to say, we were spellbound and feeling the spirit.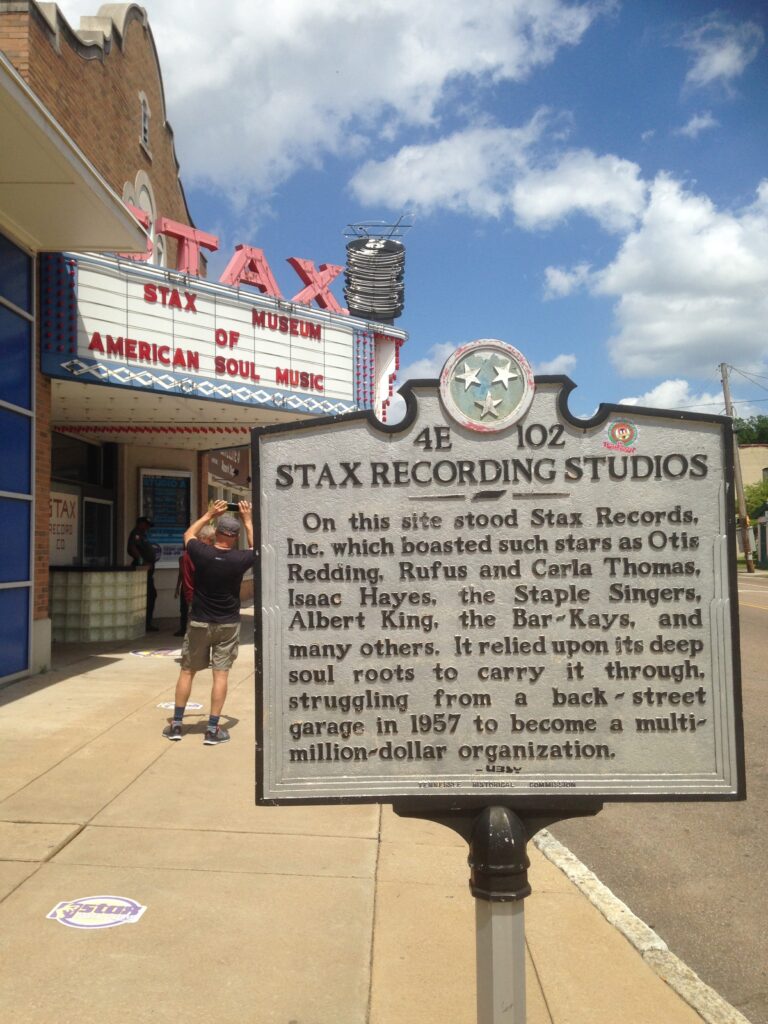 It was just the middle of the afternoon, and the rest of the day lay ahead of us including cocktails and oysters in the garden of Silky O'Sullivans on Beale Street and dinner at The Rendezvous.
This was only day one. Day two turned out to be even more memorable as well as being deeply moving.
I hit the gym to work off the previous days indulgences, had a light lunch, then went back to The Center for Southern Folklore, which I had noticed earlier but was not yet opened.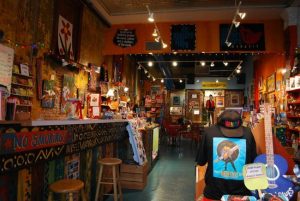 I walked in to find the director, Judy Peiser and her young assistant struggling with something at the far end of the room. Judy called out to me: "Ahh, just what we need, a strapping young man to help us move  this table." I obliged. After introductions and a brief chat, Judy offered a tour of The Center. The current exhibit in Heritage Hall was about the contributions of the Jewish community to Memphis life, including photos of the first synagogue, integrated picnic gatherings and Lansky Brothers Clothing. Bernard Lansky's original store on Beale St. featured vibrant colored clothing that looked great on stage and reflected the style of African American musicians who performed in the Beale St. clubs: Count Basie, Duke Ellington and BB King among them. This attracted the interest of Elvis Presley, who brought the sharp black, baby blue and electric pink colors to main stream fashion.
I also noticed a photo of Rufus Thomas. "Hey, I met him once. I know his daughter Vaneese," I said out loud. "I just had dinner with Vaneese Thomas last night," said Judy. "Really! You're kidding… do you think she's still in town?"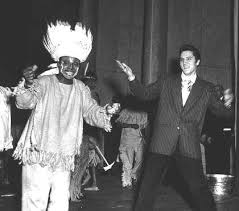 I phoned Vaneese and caught her as she was driving home from rehearsal with her sister Carla. I invited them to a TV show we were doing that evening and asked if she would like to sing a song with us. "Absolutley, yes!" My day just got much better. Right then my phone started buzzing with texts. I lost track of time. "Where are you?" The bus was about to leave without me.  I ran back. Fortunately, I had a really good excuse for being late. All was forgiven, Vaneese was going to sing with us. Synchronicity!
We were booked to tape a live performance on DittyTV, a network that streams its signal to any web-connected device. I discovered DittyTV because it's one of the many apps available on my Roku TV. I'd watched a few episodes of their Concert Series recorded in their studio and was really impressed by the production quality and attention to detail. They also stream music videos of Americana and roots-style music artists along with interstitial content produced in-house on a range of topics that interest their viewers.
Some perspective from Prof. Paul is in order here. Memphis is a big "small town" where people made history in simple, profound ways. A guy named Sam Phillips opened a little storefront business called the Memphis Recording Service on Union Avenue in 1950. Soon to become Sun Records, he produced records for Howln' Wolf and Ike Turner; discovered and produced Elvis Presley, Jerry Lee Lewis, Johnny Cash and dozens of others. His mom and pop shop championed misfit innovators and jump-started modern music. At the other end of Union Avenue was another local business, WDIA Radio. Started in 1947, it became the first station programmed by and for African Americans. BB King, Rufus Thomas and Bobby Blue Bland had their own programs. "The Mother Station of Negroes" was a 50,000-watt outlet for blues, gospel, rhythm and blues and a trusted source of information to the black community. And of course, there was Stax. All started as local businesses that ultimately enjoyed world-wide success and influence.
So, I shouldn't have been surprised when our bus pulled up to another little storefront. This one had the DittyTV logo on a plate-glass window. Just like Sun Records, WDIA and Stax, it's a small business located right there in a Memphis neighborhood. DittyTV is one of many new businesses started by music-loving entrepreneurs seeking success in the internet era. Like radio and MTV before it, streaming is simply another way to access music. Yet, it feels so new.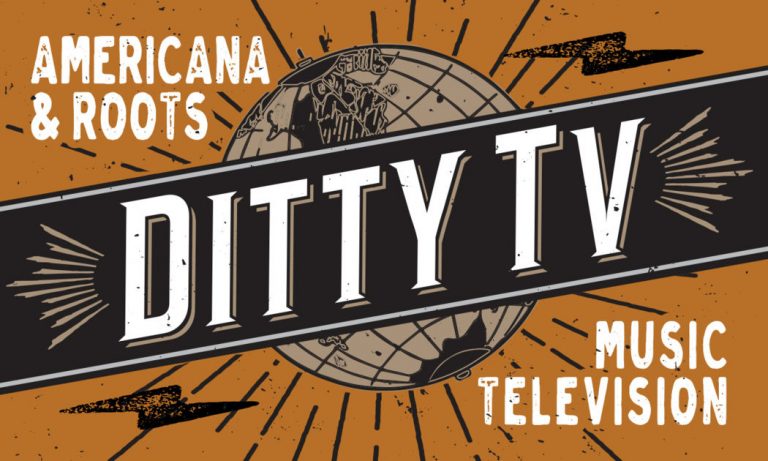 DittyTV founders Ronnie and Amy Wright are pioneers in a new media landscape, as were Jim Stewart, Estelle Axton and Al Bell of Stax, Sam Phillips of Sun, and Nat D. Williams, the trailblazing black DJ of WDIA before them. I wish them much luck and hope they are as successful with DittyTV as their Memphis music forebears. They're already reaching an audience around the world from their little building on South Main Street.
Back to our show…
…When Vaneese and Carla got to the studio they were treated like royalty, and rightfully so. We were all excited to finally meet Carla. Vaneese sang on The Bacon Brother's Live CD and DVD in 2003, and everyone in the band worked with her at one time or another. So, it was a bit of a homecoming. She joined us on a song called 493 Miles, upping our game and blowing the roof off the place. What a treat for the studio audience and us!
As if "six degrees" connections couldn't get to be more fun, one of the sponsors of DittyTV is… wait for it… Lansky Brothers. Who should show up other than Hal Lansky son of founder Bernard. Hal and his lovely wife joined us after the show for the green room soiree. Still courting musicians…a box of Lansky Brothers tee shirts showed up at the office after we got home. Thanks for the uniquely Memphis swag, Hal!
Allow me one last and most important anecdote from our short time Memphis.
From the back patio of the DittyTV building, you can see across the alley to the Lorraine Motel where Dr. Martin Luther King was assassinated 50 years ago. While the crew was setting up in the afternoon, Ira and I walked over and visited what is now called The Lorraine Motel National Civil Rights Museum. This was a most solemn and moving experience. People of my generation lived through those awful days in 1968 when both Dr. King and Bobby Kennedy were taken from us. How many times have we asked ourselves: "What if they had lived?"
From the street, we could see the very balcony that's been etched in our consciousness by so many documentaries; we see the black and white image of Dr. King lying on the ground and his four colleagues pointing towards where the shots came from. The garish mid-century blue, red and yellow rock-and-roll colors remained intact. Everything appeared as it was that day, including the presence of two 1960's-era cars in the small parking lot.
The museum tour began with the story of African slaves taken to America, followed by room after room of scenes and relics from plantation life, The Civil War, Reconstruction, Jim Crow, the great migration north, Brown vs The Board of Education, Emmitt Till, Rosa Parks, The NAACP and the civil rights movement, JFK, The Civil Rights Act of 1964, LBJ, the "I have a dream" speech, the Memphis Garbage Strike, I Am a Man and finally… the last night and day of Dr. King, his rooms and… the balcony. A line of people were backlogged as the tour approached the hallway where you could view the rooms and the balcony. Solemn and silent, we waited our turn to stand and contemplate the actions that took place here fifty years ago.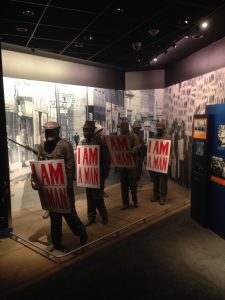 In the context of what's happening today in America, I found myself oddly optimistic. The world that Dr. King dreamed of is certainly not here… yet. Still, around me stood dozens of people from all walks of life, every color, age and religion who came to this place with the common purpose of honoring him, the movement he led and the words he preached: "Darkness cannot drive out darkness; only light can do that. Hate cannot drive out hate; only love can do that."
And so, we carry on.
This was an unforgettable 48 hours walkin' in Memphis.