I finished another fab tour with the Bacon Brothers in the fall and went right into Dr. Rock mode teaching the two courses I usually offer at Pace University. I was also invited to design and teach a new class for Lehman College (CUNY) which began in February. As you can imagine, with three classes and 64 students at two campuses time is tight. Still, I'm writing, producing, fitting in a little performing and doing some other interesting work.
In March I was music director for a big event hosted by Caterpillar at the Construction Expo in Las Vegas. This may have been a trade-show party but it was pure theater for everyone who worked on it.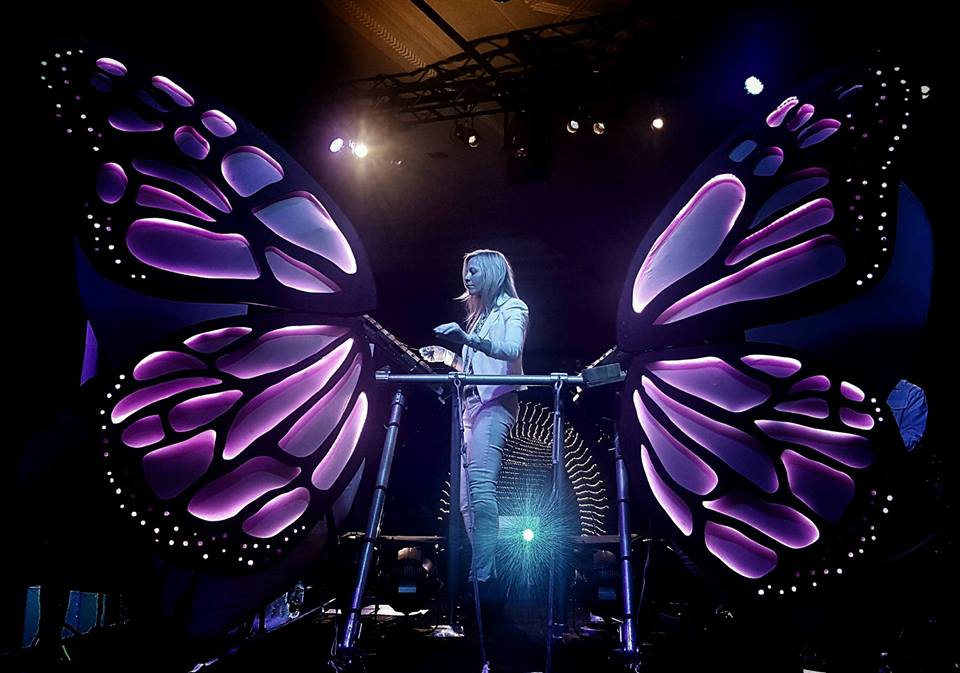 Surely, the most gratifying aspect of what I do in music is working with some of the most gifted people in the biz.
The Music
Andrea Brook is a musician and maker of musical instruments with an inspired imagination. She's a great collaborator with a sensitivity to detail that warms my Virgo heart. Her latest creation is called Sonic Butterfly, which is both an instrument and art installation. When I called her up to talk about the gig Andrea pointed out the obvious connection between Caterpillar and butterfly. Why didn't I think of that? Clearly this was gonna be a very cool project.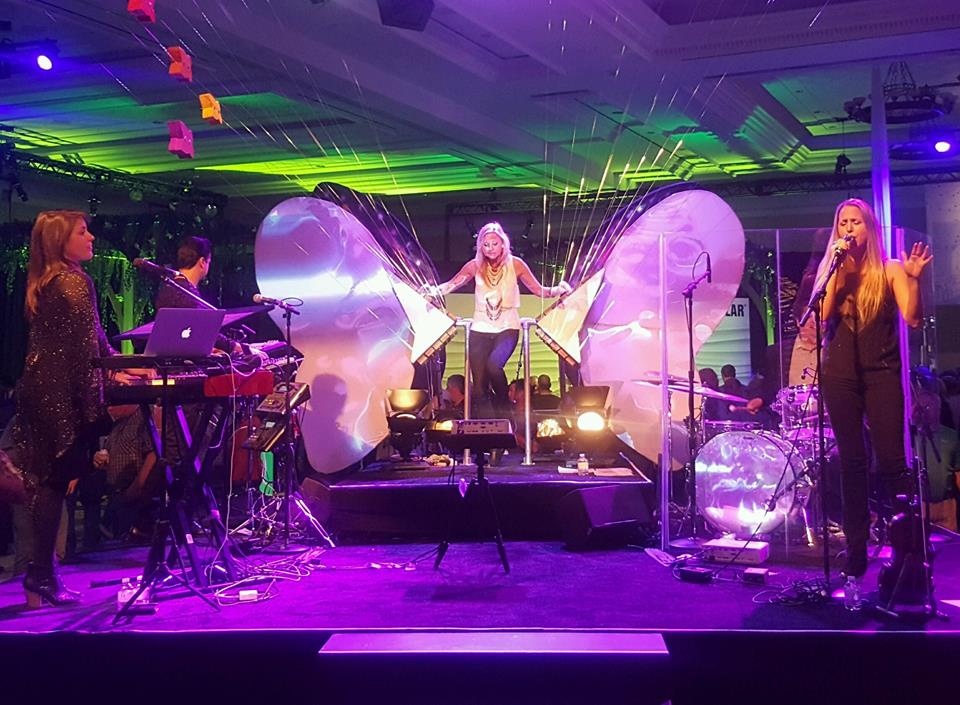 With its 26 glistening strings projecting out and over the audience from it's resonating wooden body on the stage I knew The Sonic Butterfly would provide a wow factor to the curious engineering types attending the event. What I didn't expect was that heavy machinery operators would also be captivated by the presentation as well. Everyone was charmed by the appearance of this beautiful instrument and the sound radiating from the stage.
Andreas twenty-first century chamber ensemble featured Nima Rezai who played the Chapman Stick and manipulated hypnotic projections which he designed. Rounding out the group was Brad Ranola on drums, Onyay Pheori on violin and Alarra Saress on keyboards. Onyay and Alarra also supplied rich vocal textures.
Because the Forum Ballroom at Caesars Palace is so enormous and would be filled with as many as 3,000 people and giant machinery we needed a few other elements.
This being Las Vegas I suggested getting a DJ who would alternate sets and jam with the band. Enter DJ Dezie straight from high atop the Stratosphere Lounge the tallest building in Las Vegas. Dezie and I created a playlist especially for this audience and rocked the house with contemporary remixes of classic rock, pop and even country.
The final performance touch was provided by three amazing silk dancers: Shyamtara, Danielle Rueda Watts and Andrew Leach. They rose above the crowd and gracefully performed routines to remixes of Tom Petty's Free Fallin', Coldplay's Paradise and Frank Sinatra's Fly Me To The Moon.
The Staging
The idea was to transport attendees to a world in the not too distant future by having them enter the cavernous space through a portal of sparkling lights and ambient sound. They emerged from the tunnel to see the Sonic Butterfly ensemble performing in a massive room filled with futuristic structures and dioramas highlighting Caterpillar's newest earth moving machines.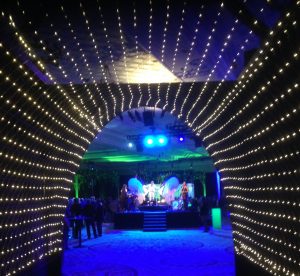 The striking look of the room and the staging was created and built by a talented team of designers from MC2 the company that produced the event. Our intrepid executive producer Mark Rubinsky put together the team including: myself, choreographer/director Melinda Buckley, sound designers Lee Kalish and Paul Bevan, lighting designer Paul Fine and stage manager Liana Rosario.
For me, whether it's coming off a tour, the closing night of a show or the end of the semester you can gauge the quality and success of your work by the way you feel when you bid adieu to your colleagues. This was an exhilarating ride for all the right reasons and even though I know we'll work together again, it was a little sad to say goodbye to everyone.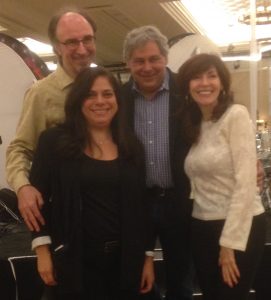 See you all down the road my friends…